Next Event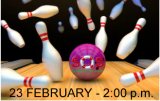 CADET BOWLING ON THE WAY
......plus a super sailing gear sale  
On Saturday 23 February the Club has a busy day.  In the afternoon the Club's Cadets and Otters strike it lucky at Clacton Pavilion Bowling.  The lanes are all booked and it promises to be a whole tot of fun, from 2:00 p.m. onwards.  Contact our Cadet Officer Harry to reserve your place.
Then in the evening our Sailing Secretary Derroll brings us another amazing selection of bargains at the Sailing Gear Sale.  Hot from Nucleus come wet suits, boots, oversuits, dry suits, teddies, spray suits, ropes shackles, elastic, and anything else you can think of; all at knock-down prices.  The sale starts at 7:00 p.m. at the Clubhouse.   
And don't forget the Club is open every Wednesday evening from 7:30 p.m. for a drink and a chat.
Cor - 2019 is going to be great, down the Gunfleet.